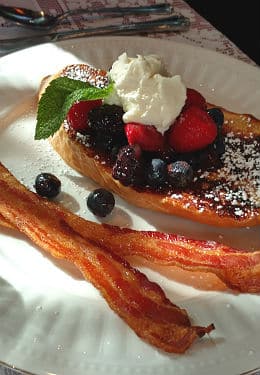 "Breakfast" is the second "B" in Bed & Breakfast and it's an important part of your stay at Isaiah Jones Homestead B&B. We strive to make tasty and appealing breakfasts everyday for our guests at the inn. One of our breakfasts that guests just rave about is our Buttermilk Pancakes. The recipe is provided below.
Food is celebrated and enjoyed at more times and events than just at breakfast. I am a HUGE fan of Julia Child so we host a yearly celebration of this iconic chef. Watch for information on the 2019 Tribute to Julia Child Weekend. You will want to make your reservation as soon as the date is set because this weekend fills up fast!
Another "foodie" celebration here at Isaiah Jones Homestead B&B happens on New Years Eve. As the First Night Celebration is taking place in Sandwich, MA, we have our own party with a Champagne Dinner here at the B&B. Start the evening with the First Night kick-off parade passing right by the B&B, enjoy the wonderful dinner – complete with champagne toast, and end the evening with a stay in one of our comfortable guest rooms. It's only six months away – make your reservation soon for New Year's eve.
The town of Sandwich has some excellent restaurants – and most of them serve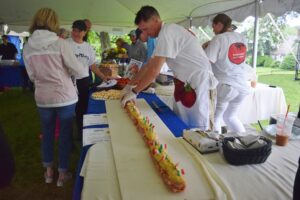 sandwiches. In fact, the town has a contest each year to determine who makes the best sandwich in Sandwich, MA! SandwichFest will be held on Saturday, June 29, 2019. There is still time to make a reservation for this fun contest – and you can vote for a winning entry if you purchase a ticket ($20) for the event.
After a good night's rest at our B&B, begin your day with a delicious breakfast including these Buttermilk Pancakes. With blueberry season just around the corner, you may get a special treat of Blueberry Pancakes started with this recipe. You can make these at home or, better yet, I will be happy to prepare them for you when you stay with us!
ISAIAH JONES HOMESTEAD BED & BREAKFAST BUTTERMILK PANCAKES
2 cups buttermilk
1 teaspoon baking soda
1 large egg
1/2 teaspoon salt
1 cup all-purpose flour
Sift together flour, baking soda and salt in large bowl. Beat egg, add buttermilk, and add liquids to flour mixture. Whisk all ingredients together until smooth.
Cook on lightly oiled griddle or skillet until bubble pop and edges are dry, adding blueberries, if desired. Turn and cook another 2 or 3 minutes.
Caution: These pancakes are very delicate. Handle with care.
Serve with warm maple syrup. Serves 4
Enjoy!
Katherine