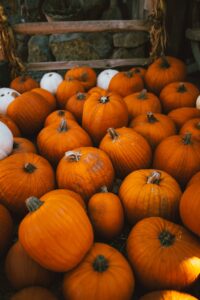 As fall continues to settle in on Cape Cod, colors change and different types of pumpkins can be found in pumpkin patches and in Art Galleries and Museums. Orange is just one of the colors for this special fall squash we often think of as a Jack-O-Lantern or as a delicious ingredient in everything from pies to latte.
To find some real pumpkins to use for cooking or to make your Jack-O-Lantern, one wonderful Farmers Market to visit is Crow Farm located at 192 Old Kings Highway
Sandwich, MA – that's just a 2 minute drive from Isaiah Jones Homestead B&B! The Crow Farm produces and sells many more fruits and vegetables in addition to pumpkins. See the harvest schedule for lots of veggies and plan your visit to the farm during October. You can shop for pumpkins and other squashes, apples, lettuce, and beautiful mums. They even provide recipes for the cooks in your family to make great fall sweets and treats.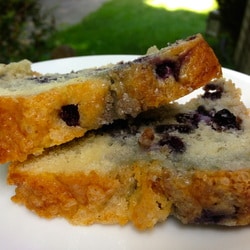 Another great opportunity to find a perfect pumpkin while helping a Cape Cod Food Bank is at Bourne Cataumet United Methodist Church. The Pumpkin Patch at 37 Sandwich Rd, Bourne Village is open Monday through Saturday from 10am to 6pm and on Sundays from 12pm to 6pm. All proceeds from this pumpkin patch benefit the Bourne Friends Food Pantry. Check out the fun from last year's version of the pumpkin patch. Feel good while being creative with your pumpkins!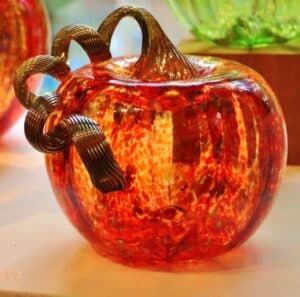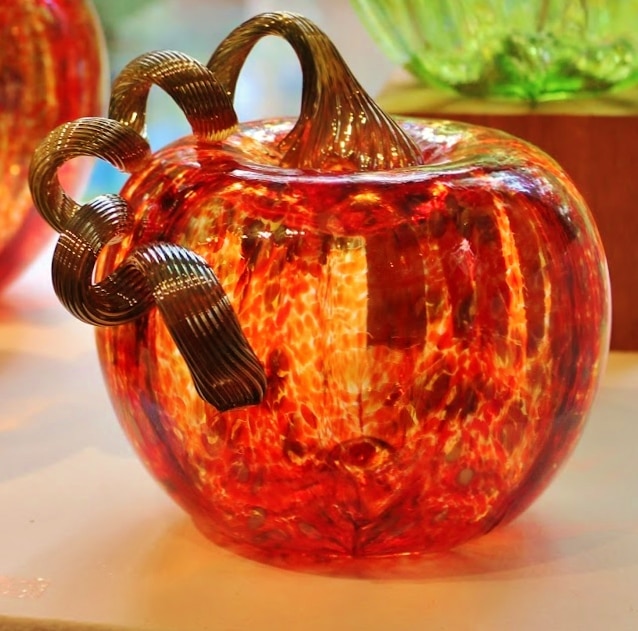 The most unusual, creative, and beautiful pumpkins on Cape Cod will be found at the Sandwich Glass Museum at the 8th Annual PumpkinFest! This "pumpkin patch" is filled with handblown glass pumpkins in a variety of shapes, sizes, and colors. The Festival is scheduled for Saturday, October 19th, 2019 from 10am to 2pm. The Sandwich Glass Museum's Hospitality Team will be making homemade goodies for sale during PumpkinFest. Enjoy the whole day and support the museum and the Sandwich Historical Society. Glassblowing artists frequently give demonstrations at the Museum. You can observe the molten glass being pulled from the furnace and then taking shape at the hands of a glass artist. Admission to the Museum is $10 for adults, $2 for kids 6-14, and it's free for children under 6 years of age. The location, at 129 Main Street, Sandwich, is an easy three-minute drive from the B&B. Find a special glass pumpkin and check out all the other glass designs that are perfect for decorating or for a gift for someone you love.
Innkeeper tips to try: If you have a favorite pumpkin muffin recipe, add golden raisins, dried cranberries, or chopped pecans to them for some added flavor and texture. Did you know that Pumpkin puree is great added to macaroni and cheese, soups, chili and a host of other savory dishes.
Make a reservation now to stay at Isaiah Jones Homestead B&B for a fall getaway. You will have fun as you pick your favorite pumpkin from the farmers market, the pumpkin patch, or from the Sandwich Glass Museum.