Sandwich, MA is the oldest town on Cape Cod and became famous as a glass-making community beginning in the early 19th century. Deming Jarves was a principal and manager of the Boston & Sandwich Glass Company and later, the Cape Cod Glass Works. A whole community was built around the glass-making industry (both blown and pressed glass) and helped to make Sandwich prosperous. The Sandwich Glass Museum is part of the Sandwich Historical Society that gathers, preserves, and interprets the history of the Town.
During the month of February, the Sandwich Glass Museum, located at 129 Main Street, Sandwich (just a six-minute walk down the street from our inn) will feature three very different glass exhibits. The first special exhibit is "Considering Cartoons – The Art of Animation". Before computers were used in cartoon production, animation cels (a transparent sheet of celluloid or similar film material, which can be drawn on and used in the production of cartoons) were used to create some our favorite cartoons. This exhibit includes nearly 100 original and limited edition cels used by Walt Disney and Warner Brother Studios. Learn how the films were made and view at 15 glass artists' interpretations of favorite cartoon characters. The cartoon characters almost come to life as they shimmer in glass.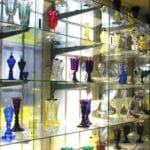 In the Contemporary Gallery, explore "Torch Glass by Isabel Green". Isabel Green is talented young artist who was born in New York City but grew up on Cape Cod. She attended a class at McDermott Glass Studio in Sandwich and fell in love with the medium. Isabel continues to push her creative limits using glass to produce sea creatures and other whimsical pieces inspired by her surroundings. Blowing glass and creating wonderful art pieces is her passion.
The third special exhibit during February 2018 is "Her Place by the Sea – The Alice Lucy Ware Armstrong Collection". Alice Armstrong was born in 21876 and, after an ear infection, became deaf at the age of 18 months. Her parents would not allow her deafness to define her life She attended Clark School for the Deaf at Smith College and graduated in 1893. She was very creative and artistic. She loved to paint and enjoyed woodworking. She carved her own desk where she spent time writing. She attended several Fine Arts Schools and one of her paintings, "Woman in A Red Dress" was accepted into the 71st Exhibition at the Pennsylvania Academy of Fine Arts in 1902 – being exhibited next to some of the best artists of the day. Her time on Cape Cod was spent at Meadow Spring Farm where she would also spend tie weaving. Her woven creations as well as her paintings were sold on the Cape. This exhibit will show many of her creations and reveal her many talents.
All of these exhibits are open from 9:30am to 4:00pm Wednesdays through Sundays. The cost to enter the Museum is $9 for adults and $2 for children 6-14. Come to Sandwich in the quiet months and experience life as a local.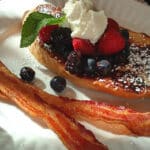 Feel pampered at Isaiah Jones Homestead B&B with comfortable guest rooms, dreamy beds, and yummy breakfasts. Remember to make your reservation for Valentines Day! She will love you for it.