On February 14, 1949, Francis William Preston married Marguerite Lee Brown in a nuptial Mass celebrated at Corpus Christi Church in Wethersfield, Connecticut. The groom was 29 years old and the bride was 25, each a bit older than the majority of their contemporaries. Both had served in the United States Navy during World War II, then met singing in a church choir after the war.
Fran and Marguerite were the parents of five children, raising their brood first in Wethersfield and then in Chatham, Massachusetts, on Cape Cod. Fran worked mainly as a meat cutter while Marguerite devoted most of her efforts to caring for their family. They were married for 26 years when Marguerite died in 1975 at the age of 51, much too soon. Fran continues to live on Cape Cod and, at the age of 93, is still a very active part of the community. He volunteers to visit shut-ins, he sings for nursing home residents with a group from his church and he still participates in ceremonies for Veterans' Day and Memorial Day celebrations, where he wears his Navy uniform.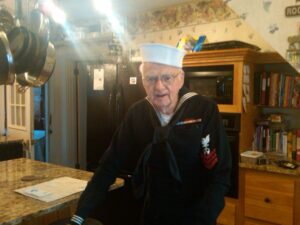 Fran and Marguerite's eldest daughter, Katherine, and her husband, Donnie, are the owners of the Isaiah Jones Homestead Bed & Breakfast in Sandwich, Massachusetts, not far from Fran's home. Katherine says she owes her love of cooking to the lessons she learned as a child from Marguerite in the kitchen. This year on Valentine's Day, Katherine will spend a good portion of the day with her father, each re-telling tales from Valentine's Days in the past when Fran and Marguerite were celebrating their anniversaries. The rest of the day will be spent with Donnie, sharing some quiet time together and a special dinner at home.
Valentine memories should be cherished, indeed, and we hope that this day brings some lasting ones to you.